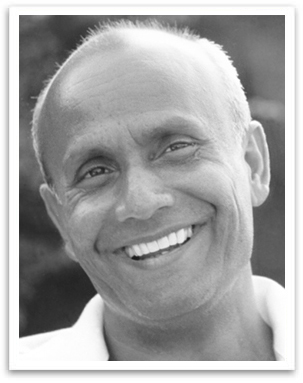 Sri Chinmoy is a spiritual teacher who lived in New York, US from 1964 until his passing in October 2007
Sri Chinmoy was born in Chittagong, Bangladesh in 1931. After the death of his parents at the age of 13, he went together with the rest of his family to the Sri Aurobindo Ashram, where he spent the next 20 years in intensive meditation and spiritual discipline. 1964 he followed an inner voice and came to the West. Since then many meditation centers have been established under his guidance all over the world.
Sri Chinmoy's path is a path of the heart. He put great importance in developing the heart and at the same time on manifesting the inner spirituality in the outer world. Sport in general and running in particular play an important part in his teachings. Sri Chinmoy is the inspiration between the World Harmony Run a relay run for peace through over 100 countries. The World Harmony Run seeks to build friendship and harmony between different people around the world.The Sri Chinmoy Marathon Team organise many running races and are known for their careful organisation.
Sri Chinmoy was very creative in different fields. Over 1400 books, mainly aphorisms and poetry, have been published. He composed a great number of spiritual songs and performed them also on many different instruments at his concerts. He produced over 200,000 pieces of colourful abstract mystical art called "Jharna Kala", fountain art, and spent the latter part of his life drawing beautiful birds representing the human soul. In the field of sports he was personally very active and became known specially for his lifting of very heavy weights.